About a decade ago billionaire, PayPal founder, Facebook and SpaceX investor Peter Thiel started to bankroll a non-profit organization called Seasteading Institute.  Soon we can expect its prime project – an amazing city of the future!
It is known that the world's first independent floating city will be launched in the Pacific Ocean in 2022. The Floating Island Project which costs £37 million ($50 million) also will be operated by its own government (just with the support of the government of French Polynesia) and use its own Vayron cryptocurrency.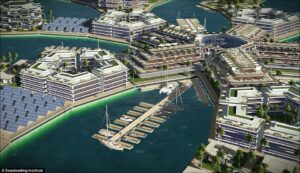 The marine city state will feature 300 houses and a few buildings of hotels, restaurants, offices and so on. The floating city will be located about a kilometer away from the coast. People can move by ferry. The city will be filled with plants, and houses will be equipped with wind turbines and solar panels. It will ensure the full autonomy of the city. In addition, fruits, vegetables and seafood will be grown directly on the island.
Subsequently, the city is going to turn into several floating islands, connected with each other. This will require $60 million, which the creators plan to involve with the benefit of ICO.
In a new interview, Nathalie Mezza-Garcia, a political scientist and researcher at Warwick University, says the island's residents will be free of 'fluctuating geopolitical influences and trade issues'.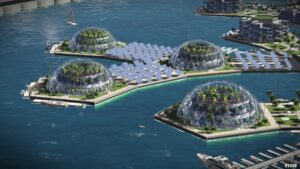 "The Polynesian Islands is the region where land is resting on coral and will disappear with the rising sea levels. If we can see this first island works, we will have a proof of concept to plan other similar projects for climate refugees," she said.
The city will not rely on rising sea level. The city will rise with it. Wait for it, before we conquer Mars, we will populate the ocean.