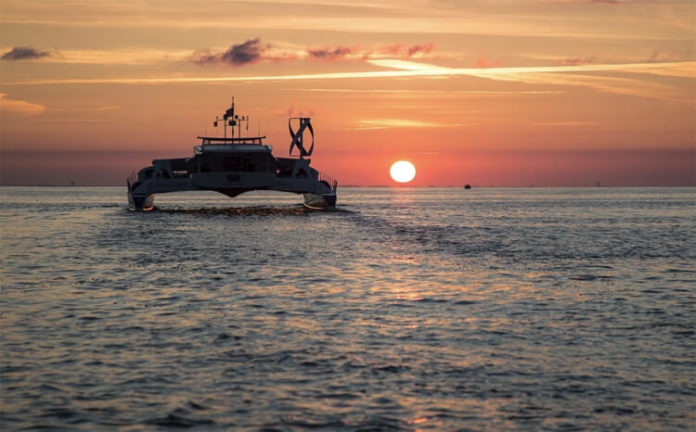 Nowadays, the most unexpected directions in the design of transport become developed. Due to the technological process, things alive again, which recently were considered outdated. Toyota became the main investor in the project for the construction of the newest experimental vessel. According to the designers' idea, it won't need fuel.
The ship (or rather the catamaran) will work on a hybrid engine. It will receive energy from waves, light and wind. The reserve source of fuel will be, but very unusual. The matter is that it is a hydrogen fuel cell. However, it will also use sea water. If the project succeeds, the innovative boat will be the first non-volatile vessel since the era of sailing ships.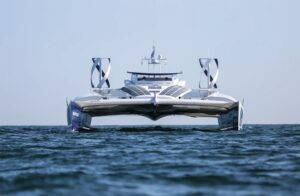 The vessel was named «Energy Observer». Curiously, that originally it was supposed to be a sailboat, but the designers decided to develop the idea and go further. The roots of the project go back to 1983. The fleet engineer Nigel Airens created a kind of a nonvolatile ship. It managed to establish several records.
"The Energy Observer is a technological challenge. It's like a solar plane "Solar Impulse", but in marine adaptation and made in France. Its goal is energy sustainability and the ability to make the round-the-world trip completely autonomous. It will use only natural resources and renewable energy sources," the developers say about their offspring.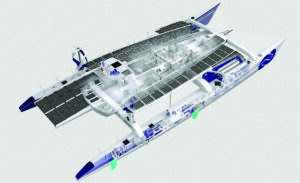 It is known that the new Energy Observer will become a small catamaran. The length of the boat will reach 30.5 meters and the maximum width − 12.8 meters. The ship's displacement will be 28 tons.
«Everyone will be able to see this boat and get acquainted with its work. You can follow us in social networks and see the movement of the vessel Energy Observer and what's happening inside. We plan a lot of innovations, even virtual reality. You will be able to regularly watch what they are doing now on the Energy Observer,» says expedition member Jerome Delafos.
They plan that on board of the catamaran will be 4 professional seamen, an engineer and operator who will do multimedia content on the network. The ship won't carry the cargo and the crew, but they will install the variety of research equipment on board. This equipment will help determine the potential for the further development of ships without fuel in the XXI century. The ship will be launched in a long 6-year journey. During this time it will visit the coastal space of more than 50 states.