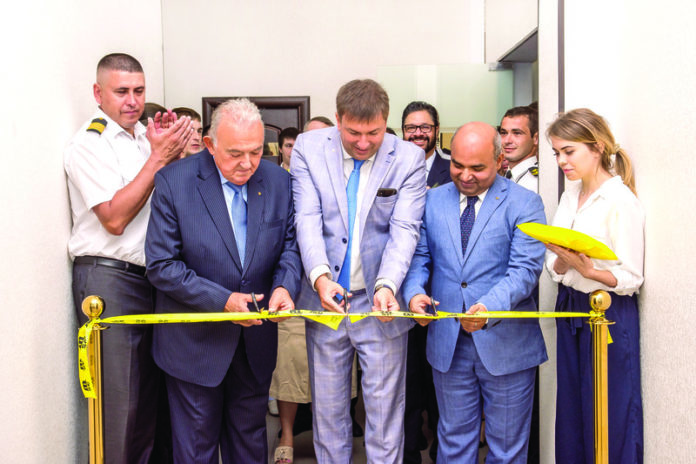 It is hard to believe but even leaders of the world shipping sphere started out small. MSC Mediterranean Shipping Company S.A., which currently occupies the second place in terms of container capacity celebrates the 10th anniversary since the day of foundation of its branch in Odesa – MSC Crewing Services LLC (Ukraine).  On this occasion the office of the company was visited by a delegation of foreign management, including Mr.Prabhat Jha, Group Managing Director & CEO, MSC Shipmanagement LTD. And Mr.Nicolas Petroyannis, Director of MSC Shipmanagement LTD. They came to take immediate part in the opening of their own training simulators of captain's bridge and engine room, which allow officers to prepare better for further voyages.
"Here's the most memorable moment – an official inauguration of our training centre which we have been waiting for a great deal of time. But what we've got — it's really exceeded all our expectations. It's the best, it's the newest, it's the most sophisticated with the latest technologies training centre thanks to Mr. Petroyannis and Mr. Jha who really put there a lot of efforts", – Mr. Ruslan Bundyuk, Managing Director, MSC Crewing Services LLC (Ukraine) said.
"We have the big philosophy to train our own people, and opening a training centre was a part of this philosophy, – Mr. Prabhat Jha told. – We can increase the professional competency of Ukrainian crew to make them one of the best in the market. And, of course, it helps us and we are proud to be here and to continue recruiting more crewmembers from Ukraine".
At the time of its foundation, in 2008, the representative office of MSC Shipmanagement LTD. in Ukraine had only 8 containerships and 12 employees. After 10 years of skillful management and care about their crew, MSC Shipmanagement LTD. has become a Mecca for Ukrainian seafarers, where both ratings and officers tend to get into.
During its existence Odesa branch increased more than fivefold and grew to 64 employees. In addition, MSC Crewing Services LLC (Ukraine) has the other branches in Kherson, Mariupol and Izmail. Its fleet was replenished by new vessels and now it accounts for 86 ships. The phrase "to work for MSC Shipmanagement LTD. is" can be continued only with the words "prestigious" and "profitable". Over the past 10 years the company has made a great leap not only in logistics but also skillful the market of employment of marine staff. During only 2017 MSC Crewing Services LLC (Ukraine) employed more than three thousand seafarers. They may not be afraid of losing a job no matter what happens in the shipping industry. First of all, because MSC Shipmanagement LTD. is a guarantee of stability and confidence. While other shipowners tighten their belts, the company expands its fleet and increases the number of work places.
"Every year MSC Crewing Services LLC conquers new horizons, – Mr. Ruslan Bundyuk said. – For example, we are opening new directions, such as cruise fleet and Ro-Ro vessels. With every year the company is getting closer and closer to its goal – 101 vessels, fully manned with Ukrainian seafarers. To reach our goal we just need to continue moving ahead in the same direction".
One of the main advantages of MSC Crewing Services LLC, which not every company can boast of, is an extended cadet program. Every year the company gives an opportunity to 350 cadets from Odesa Maritime Academy to get practice on their vessels. Future maritime specialists just need to know English and have good progress in studies. According to Mr. Ruslan Bundyuk, the most important thing is a desire to work and grow professionally and they will definitely get this opportunity.
"ONMA has been cooperating with MSC Shipmanagement LTD. for 10 years so far, and both parties are satisfied with the results, Mr. Mykhaylo Miyusov, Rector, Odesa National Marine Academy commented. – Every year the company purchases equipment to the sum of $80, 000 for the academy, which enables our students to study at the most advanced level".
MSC Shipmanagement LTD., unlike other shipping company, is most of all a family company – this is how MSC Shipmanagement LTD. has developed and grown. The staff and seafarers have grown together with the company.
"This is all thanks to our founder and executive chairman of MSC Mediterranean Shipping Company S.A. Captain Gianluigi Aponte, whose philosophy has helped MSC group, – Mr. Prabhat Jha added. – We all are the loyal soldiers of the company and we don't look only for the profits, but first off take care of people".
Feedback
Vyacheslav Dudko
Captain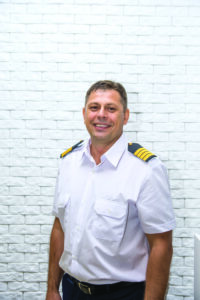 Almost all my entire career is connected with MSC Crewing Services LLC. I can even say that this company is my loyal life's companion. I came here as A.B in August 2005. The very first contract pleased me not only with good working conditions but also with promotion to the position of the 3rd Officer. Thus in my first voyage I became convinced that MSC Crewing Services LLC (Ukraine) was what I needed. In the previous company where I worked before, I was fed with promises about promotion for five years until I made up my mind to leave. I'm incredibly glad to find a shipowner, who appreciated my abilities! Over a year after the first contract I was already the 2nd Officer.
Now I'm a Captain and have to admit that I have already got used to stability which MSC Shipmanagement LTD. offers. The company has become a second family for me. And it is also pleasant that I get the same friendly treatment in return. Last year I had to cure a serious disease – cataract. Operation and other medical services cost at least UAH 40, 000. All money was covered by medical insurance of MSC Shipmanagement LTD.
I have to admit that I have got used to such loyal conditions which the company offers to its seafarers that I can hardly believe in another situation. I have advised several times my colleagues and friends to find employment in MSC Crewing Services LLC. And now even my 16-years old son Vyacheslav is considering a perspective of continuing our sea dynasty. One day I showed him what company his father is working for and, I must say, he was impressed by Odesa office of MSC Crewing Se
rvices LLC. If he really chooses to connect his life with the sea, I suppose, he will work for MSC Crewing Services LLC.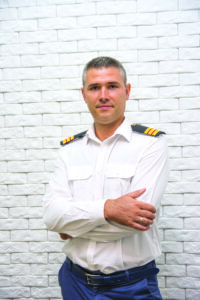 Oleksandr Ustyansky
Chief Engineer
I have long and fruitful cooperation with MSC Shipmanagement LTD. Ten years ago I came here as a cadet and I have practically grown up along with the company. During all this time the world and Ukrainian markets underwent a lot of changes, but MSC Crewing Services LLC stays as if away from these crises. I had never had to worry about my position and duly paid salary. No matter what, the company runs like clockwork. Moreover, every year MSC Shipmanagement LTD. renews its fleet, thus providing more vacancies.
Now I have a permanent job at MSC Crewing Services LLC and I'm not into searches for something else in other companies. In office seafarers get good and welcoming treatment, in voyage they can always expect decent working conditions, salary and free Wi-fi. Could an inexperienced cadet expect such luck filling in an application form 10 years ago?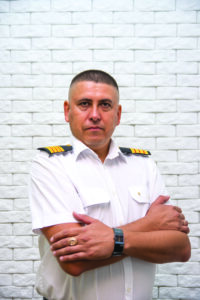 Igor Akulibaba
Chief Engineer
When I came to MSC Crewing Services LLC in 2007 I was still studying at Odesa Maritime Academy on extramural basis. I was afraid that it would be difficult for me to combine working and study hours. But as it turned out there were no reasons for that. The company was so supportive during all my studies and made concessions to me a lot of times. My contracts ended on that exact day stated in the contract and I had enough time to pass all my exams. I can even remember one occasion when between two last exams and state exams I had a gap – two free months. I didn't want to waste this time in vain so I came to MSC Crewing Services LLC and asked to send me on a voyage for two months. And they did it. I went on a voyage for a month and a half and was able to earn a little bit money even in such uneasy and unscheduled period of time.
Stability is what I got used to during my time with the company. I can plan my life a few years ahead, because I exactly know when I go on a voyage or come back from and that I will get promised salary. Moreover, I don't have to wait for months for available vessel. I just need to make one call to my Crewing Officer and within a week I will go on a voyage.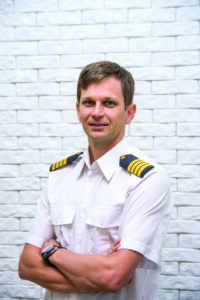 Mykhaylo Nebroy
Captain
About 15 years ago I had an interesting talk with a friend of mine, Alexander, with whom I had previously worked in one company. He told me: "Why don't you try to go to MSC Crewing Services LLC? They have higher salaries and better conditions. I didn't regret going to work in this company". I decided to check whether MSC Crewing Services LLC (Ukraine) was as good as it was talked about and handed them my application form. I went on my first voyage as the 3rd Officer… and didn't even notice how I became a Captain. At first, I was promoted to the 2nd Officer, sailed one-two contracts to secure this position when I saw a perspective of the next promotion. To tell the truth, I didn't even have time to look at what other companies and agencies offered to me. An idea of choosing marine profession was belonged to my father who was also a seafarer. It was he who inspired me to follow in his footsteps. And I'm glad that MSC Shipmanagement LTD. gave me better conditions to make my dream come true!
Oleksandr Topchii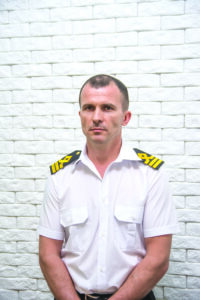 2nd Engineer
Choosing MSC Crewing Services LLC (Ukraine), I was guided first of all by three principal factors:
1. salary
2. career development
3. employment, that is how fast they can find a ship.
Having worked on MSC Shipmanagement LTD. vessels for 12 years, I understood that I cannot be critical of any of these points. If to consider salary, which senior officers get, – you won't find higher anywhere. Moreover, they have a system of bonuses (rejoining). At the moment I'm totally happy with my salary and cumulative bonuses. And I don't think that I can find another company which will give me better conditions than I have in MSC Crewing Services LLC.
The fact that MSC Shipmanagemnent LTD. is celebrating the 10th Anniversary of its representative office in Ukraine – one more time proves that a Ukrainian seafarer can and must work for this company. I am, for instance, sure in my future and this future is inseparably connected with MSC Crewing Services LLC.